Around 1650, Georg Philipp Harsdörffer devised an ingenious ballet. It's simple: first, give each dancer a board inscribed with a letter of the alphabet; then watch as new words or phrases emerge from dance. The very movement of the dancer's bodies will act as a combinatory mechanism from which language springs (Westerhoff 465).
There is no evidence that Harsdörffer ever produced such a ballet. Perhaps the first modern conceptual poet, Harsdörffer's genius lies in his ability to construct reality through language -- that is, to use language not as a mirror for the world, but as its fundamental building blocks. He used pieces of wood to make anagrams (Delitiae II.514), designed letter-dice to teach children to build word combinations (Trichter II.18; see Westerhoff 464), and assigned numbers to letters to unlock a poem's hidden values (Trichter II.26-9), earning him the title Der Spielende, or "the Player," in the Fruchtbringende Gesellschaft. Each of these games uses language not as an abstraction, the purely rational product of the mind, but as quite literally a material object to be manipulated and moved, cut-up and combined. As Westerhoff explains,
In this simple mechanization we see how the ideas of the combinatorial nature of the world on the one hand and language on the other hand meet: letters are inscribed onto material elements, so that a permutation of these out of itself generates an anagram without requiring any ingenuity. For the baroque poet this structural isomorphism between language and matter explains why this method of anagram production works, while this fact itself serves as a further manifestation of the very same isomorphism. Because language and matter both follow combinatorial principles, it is possible to mechanize the former by inscribing it onto the latter. In the "language machine" the combinatorial features of language and the world which are generally distinct are unified into a single artifact. (Westerhoff 464-5)
In no mechanism is this belief more evident than the Fünffacher Denckring der Teutschen Sprache, or the Five-fold Thought-ring of the German Language:
The Denckring is a database of the German language composed of five predicate variables: prefixes (forty-eight values), initial letters or diphthongs (fifty values), medial letters (twelve values), final letters of diphthongs (120 values) and suffixes (twenty-four values). Instead of using a table structure, however, each variable is inscribed along the edge of a disc and nested with each of the other discs, forming a simple combinatory mechanism that can generate any information stored in the database. As Harsdörffer explains,
Will ich nun alle Stammwörter ordenlich finden / so fange ich bey dem A deß zweyten Ringes an / und drehe darzu das kleine a deß dritten Ringes: dann suche ich den vierten Ring Aab / Aabb / Aabd / &c. blinde oder deutunglose Wörter / biß auf das ch / Aach / Aquisgranum, eine benamte Stadt in Niderland / Aal / eines Fisches und eines Schusters Werckzeug Namen / Aas (cadaver)&c. (Delitiae II. 516-7)
By spinning the discs, then, the user can generate up to 97,209,600 words – 300 times as many as are in the most complete printed dictionary ever produced, the Oxford English Dictionary.
Harsdörffer claims that "wird sich verhoffentlich kein Wort in unsrer gantzen Sprache finden / welches nicht auf diesem Ring weisen seyn solte" (Delitiae II.519), although of course in reality the rings are incomplete (Zeller 167). In addition to representing "die gantze Teutsche Sprache auf einem Blätlein" (Delitiae II.516), the Denckring also forms new words that do not yet exist in German but, because they are formed by combining correct radicals and letters, could exist as legitimate words. As Harsdörffer explains, explicitly tying his device to the linguistic theories of Schottel,
Ist also dieses eine unfehlbare Richtigkeit / ein vollständiges Teutsches Wortbuch zu verfassen / und beharren wir in der Meinung / daß alle solche zusammen gesetzte Wörter / welche ihre Deutung würken für gut Teutsch zulässig / sonderlich in den Gedichten / ob sie gleich sonsten nicht gebräuchlich / wie hiervon zu lesen der umb unsere Sprache wolverdiente Herr Schottelius in seiner Einleitung und in seinen Lobreden der Sprachkünst vorgefüget. (Delitiae II.518).
Because the Denckring materializes proper root-words and mechanizes the proper formula for combining them, any output it produces must also be proper German. In other words, in this view language is fundamentally a material and mechanical phenomenon: material because it is rooted in monosyllabic stem-words that are themselves rooted in "die Teutschen letteren oder Buchstabe" (Schottel 61.31), and mechanical because meaning is not computed rationally but through an absolute and abstracted algorithm. As Newman points out (writing more generally of Harsdörffer's linguistics), far from secularizing the vernacular, its physical instantiation "in textual form adds to its authority and testifies to the reality of divinity present in the German tongue" (Newman 97), bringing the reader closer to an originary lingua adamica that is divinely, not merely prescriptively, proper.
It does not seem to bother Harsdörffer that it is a book, a man-made, printed text, that he relies upon for assurances about the divine capacities of the written word -- precisely the opposite. The availability of this knowledge in textual form adds to its authority and testifies to the reality of divinity present in the German tongue. (Newman 97)
On a practical level, Harsdörffer envisions the Denckring as part of his poetic process. The device makes its first appearance in his Poetischer Trichter or Poet's Funnel, a book on different theories and forms of verse and, as is written in the Delitiae Mathematicae et Physicae, "hat ... seinen Gebrauch in Erfindung der Reimwörter / wann man die Reimsilben auf dem dritten und vierten Ring suchet und die Reimbuchstaben auf dem zweyten Ring darzu drehet" (Delitiae II.518). Similarly, unlike columnar tables printed in books – indeed, if the Denckring were printed as a folio dictionary, it would fill thousands of volumes – the structure of nesting rings allows the poet to identify words that match a particular rhyme scheme, provides immediate random access to the lexicon, and is mobile, encouraging poets to incorporate it into poetic games and performance pieces. Perhaps most importantly, in using the Denckring the poet is not locating an item in a list, but dynamically generating meaning in the moment: that is, the very motion of the poet's hand assembles a whole word out of dissembled parts, engaging the baroque spirit of inventio. More than a mere storage device, the Denckring is a writing implement, mediating the relationship between the poet's physical body and the generated text.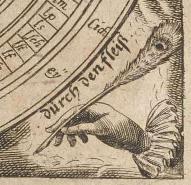 God assembled the world from thirty-two divine letters and numbers; the poet spins a wheel inscribed with trace elements of the lingua adamica to generate 97,209,600 wor(l)ds, many of which exist only as possibilities. By embodying the theory of Stammwörter, the Denckring also embodies its contradictions, turning the very institution that legitimates it – that is, God, the divine – into a mere mechanism that dumbly spits out meaning. For if the poet has at her disposal the material elements of creation and God's combinatory metric, what what Book of Nature could be read that the poet couldn't already write herself?